Prof. Dr. med. Ralf Kolvenbach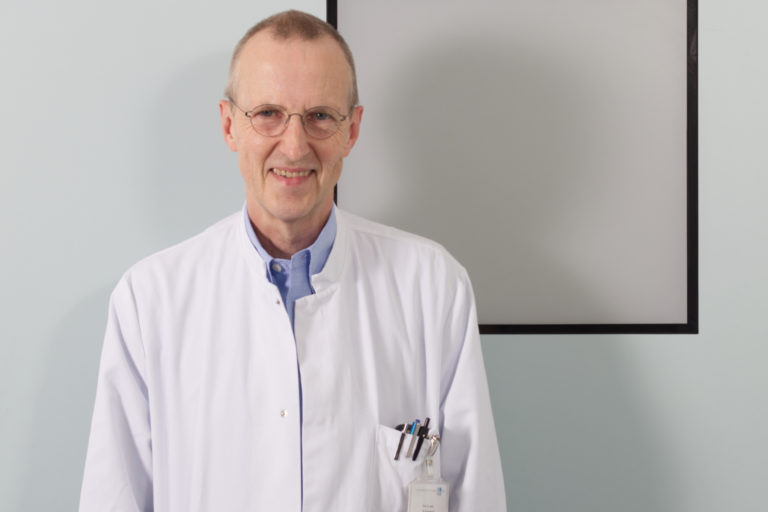 seit 2002

Ärztlicher Direktor des Zentrums für ambulante Gefäßtherapie, Düsseldorf am Augusta-Krankenhaus.

seit 2000

Ernennung zum apl. Professor an der Heinrich-Heine-Universität, Düsseldorf.

Seit 1995

Leiter der Abteilung für Gefäßchirurgie, Phlebologie und Endovaskuläre Therapie, Verbund Katholischer Kliniken Düsseldorf, Standort Augusta-Krankenhaus.

1994-1995

Leitender Gefäßchirurg Bürgerhospital, Standort Feuerbach in Stuttgart. Forschungsaufenthalt Laval-Universität Quebec, Kanada.

1993

Habilitation an der Heinrich-Heine-Universität.

1991-1994

Oberarzt in der Abteilung für Gefäßchirurgie und Nierentransplantation.

1988-1992

Ausbildung zum Gefäßchirurgen in der Abteilung für Gefäßchirurgie und Nierentransplantation der Heinrich-Heine-Universität.

1987-1988

Assistenzarzt an der herzchirurgischen Abteilung der Universität Düsseldorf.

1985-1987

Assistenzarzt in der Abteilung für Herz-, Thorax- und Gefäßchirurgie sowie Herztransplantation an der Universität von Alabama, Birmingham USA.

1982

Forschungsaufenthalt Abteilung für Herz- und Gefäßchirurgie Columbia Hospital und Medical School in New York.

1982

Promotion im Fachgebiet Herzchirurgie.

1981-1985

Ausbildung in Allgemeinchirurgie, Traumatologie, Urologie und orthopädische Chirurgie, Krankenhaus Mörsenbroich Rath GmbH in Düsseldorf.
Zusätzlich regelmäßige Tätigkeit als "Consulting" Gefässchirurg im Florence-Nightingale-Krankenhaus, der Diakonie Düsseldorf, dem St. Vinzenz-Krankenhaus und dem Lukas-Krankenhaus in Neuss.
Facharztanerkennungen für Allgemeinchirurgie, Gefäßchirurgie, Phlebologie, endovaskuläre Therapie. Ausserdem Europäische Facharztprüfung für Gefäßchirurgie (FEVS).
Es bestehen Zulassungen, um als Arzt außerhalb Deutschlands zu praktizieren. Hierzu gehört die Zulassung der Englischen Medizinischen Gesellschaft des General Medical Council, des Kanadischen Medical Councils sowie eine Zulassung um als Arzt in Israel zu praktizieren.
Im Jahr 2010 erfolgte die Ernennung zum Professor der Universität Beijing, verbunden mit der Berufung in die Fakultät des Chinese - Japanese Friendship Hospitals in Beijing. Es bestehen zusätzlich Lehraufträge am Carmel Medical Center, Haifa, und Unterrichtsverpflichtungen an der Universität Strasbourg (IRCAD).
Regelmäßige Ausbildung von Ärzten aus China, Israel und Ägypten in minimal invasiven Techniken und zellbasierter Gefäßtherapie.
Jährlich bis zu 3 mal Organisation von Kursen zu diesen Themen an dem Standort Düsseldorf.
Deutsche Gesellschaft für Chirurgie
Deutsche Gesellschaft für Gefäßchirugie
Deutsche Gesellschaft für Phlebologie
Max Plank Gesellschaft
Full member of the European Society of Vascular Surgery
Member of the International Society of Endovascular Surgery
Fellow of the Royal Society of Medicine (UK)
Member Central European Vascular Surgical Society
Honorary member Medical Society University of Parma
Full member French Society of Vascular Surgery
Founding Member International Society of Vascular Surgery
Visiting Professor and operating surgeon by invitation:
St.Mary´s Hospital London
Mayo Clinic Rochester USA
Free University Rotterdam
University of Parma
University of Pisa
University of Ravenna
Hopital St. Joseph Liege
CHU Nice
University of Lyon
CHU Quebec Canada
All India Medical Institute New Dehli
Henry Ford Hospital Detroit
University of Berlin FRG
University of Dresden FRG
Carmel Medical Centre Haifa Israel
University of Antwerp
University of Beijing (Faculty position Department of Cardiovascular Surgery)
Regelmäßige jährliche Teilnahme und Vorträge für:
Deutsche Gesellschaft für Gefässchirurgie
Europäische Gesellschaft für Gefässchirurgie
Charing Cross Symposium London
Vascular and Interventional Therapy ( VEITH ) in New York
Mitherausgeber beziehungsweise im Editorial Board aller wichtigen gefäßchirurgischen Zeitschriften, hierunter als erster und einziger Deutscher im Editorial Board des Journal of Vascular Surgery, der Zeitschrift Vascular and Surgical Endoscopy.
Akuelle Veröffentlichungen, die in internationalen Literaturverzeichnissen erscheinen
A total laparoscopic technique for endovascular thoracic stent graft deployment. Yoshida R, Kolvenbach RR, Ye Z, Yoshida W. J Vasc Surg. 2010 Feb;51(2):504-8. Epub 2009 Dec 30.PMID: 20042309 [PubMed - indexed for MEDLINE
Laparoscopic surgery in the management of complex aortic disease: techniques and lessons learned. Cagiannos C, Kolvenbach RR. Vascular. 2009 Nov-Dec;17 Suppl 3:S119-28.PMID: 19919802 [PubMed - indexed for MEDLINE]Related citations
Intraoperative adjunctive stem cell treatment in patients with critical limb ischemia using a novel point-of-care device. Kolvenbach R, Kreissig C, Cagiannos C, Afifi R, Schmaltz E. Ann Vasc Surg. 2010 Apr;24(3):367-72. Epub 2009 Nov 6.PMID: 19896796 [PubMed - indexed for MEDLINE]Related citations
Remodeling of the aortic neck with a balloon-expandable stent graft in patients with complicated neck morphology. Kolvenbach R, Pinter L, Cagiannos C, Veith FJ. Vascular. 2008 Jul-Aug;16(4):183-8.PMID: 18845097 [PubMed - indexed for MEDLINE]Related citations
Laparoscopic hybrid techniques for ectopic or accessory renal arteries debranching in complex endovascular aneurysm repair. Bakoyiannis C, Cagiannos C, Wasilljew S, Puerschel A, Pinter L, Kolvenbach R. J Cardiovasc Surg (Torino). 2008 Feb;49(1):67-71.PMID: 18212689 [PubMed - indexed for MEDLINE]Related citations
Evaluation of an aortic stapler for an open aortic anastomosis. Kolvenbach R, Shiffrin E, Schwierz E, Wassiljew S, Caggianos C. J Cardiovasc Surg (Torino). 2007 Oct;48(5):659-65.PMID: 17989637 [PubMed - indexed for MEDLINE]Related citations
Hybrid treatment of common carotid artery occlusion with ring-stripper endarterectomy plus stenting. Pintér L, Cagiannos C, Bakoyiannis CN, Kolvenbach R. J Vasc Surg. 2007 Jul;46(1):135-9.PMID: 17606131 [PubMed - indexed for MEDLINE]Related citations
Laparoscopy-assisted hybrid technique for renal revascularization using an endovascular graft: report of three cases. Bakoyiannis CN, Cagiannos C, Wasilljew S, Pinter L, Kolvenbach R. Vascular. 2007 May-Jun;15(3):154-7.PMID: 17573021 [PubMed - indexed for MEDLINE]Related citations
Report on initial experience with transradial access for carotid artery stenting. Pinter L, Cagiannos C, Ruzsa Z, Bakoyiannis C, Kolvenbach R. J Vasc Surg. 2007 Jun;45(6):1136-41.PMID: 17543676 [PubMed - indexed for MEDLINE]Related citations
Totally laparoscopic aortohepatic bypass for aortic debranching during endovascular thoracoabdominal aneurysm repair. Bakoyiannis C, Cagiannos C, Wasilljew S, Pinter L, Kolvenbach R. Eur J Vasc Endovasc Surg. 2007 Aug;34(2):173-5. Epub 2007 Apr 2.PMID: 17407826 [PubMed - indexed for MEDLINE]Related citations
Stem cell use in critical limb ischemia. Kolvenbach R, Kreissig C, Ludwig E, Cagiannos C. J Cardiovasc Surg (Torino). 2007 Feb;48(1):39-44. Review.PMID: 17308520 [PubMed - indexed for MEDLINE]Related citations
Intravascular stapler for "open" aortic surgery: preliminary results. Shifrin EG, Moore WS, Bell PR, Kolvenbach R, Daniline EI. Eur J Vasc Endovasc Surg. 2007 Apr;33(4):408-11. Epub 2006 Nov 28.PMID: 17137806 [PubMed - indexed for MEDLINE]Related citations
Laparoscopic assisted aortic surgery. A review. Kolvenbach R, Ferrari M, Shifrin EG. J Cardiovasc Surg (Torino). 2006 Oct;47(5):547-56. Review.PMID: 17033602 [PubMed - indexed for MEDLINE]Related citations
Total laparoscopic aortic surgery versus minimal access techniques: review of more than 600 patients. Kolvenbach R, Puerschel A, Fajer S, Lin J, Wassiljew S, Schwierz E, Pinter L. Vascular. 2006 Jul-Aug;14(4):186-92.PMID: 17026908 [PubMed - indexed for MEDLINE]Related citations
Total laparoscopic iliac artery aneurysm repair using endoscopic techniques and endovascular balloon occlusion. Wassiljew S, Kolvenbach R, Puerschel A, Schwierz E. Eur J Vasc Endovasc Surg. 2006 Sep;32(3):270-2. Epub 2006 Jun 6.PMID: 16757192 [PubMed - indexed for MEDLINE]Related citations
Total laparoscopic aortic aneurysm surgery. Kolvenbach R. Acta Chir Belg. 2006 Jan-Feb;106(1):36-9.PMID: 16612910 [PubMed - indexed for MEDLINE]Related citations
Protected carotid artery stenting and angioplasty via transfemoral versus transcervical approaches. Lin JC, Kolvenbach RR, Pinter L. Vasc Endovascular Surg. 2005 Nov-Dec;39(6):499-503.PMID: 16382271 [PubMed - indexed for MEDLINE]Related citations
Combining laparoscopic and endovascular techniques to improve the outcome of aortic endografts. Hybrid techniques. Kolvenbach R, Lin J. J Cardiovasc Surg (Torino). 2005 Aug;46(4):415-23.PMID: 16160688 [PubMed - indexed for MEDLINE]Related citations
Minilaparotomy for aortoiliac aneurysmal disease: experience and review of the literature. Fearn SJ, Thaveau F, Kolvenbach R, Dion YM. Surg Laparosc Endosc Percutan Tech. 2005 Aug;15(4):220-5. Review.PMID: 16082310 [PubMed - indexed for MEDLINE]Related citations
Total laparoscopic aortofemoral bypass as a routine procedure for the treatment of aortoiliac occlusive disease. Lin JC, Kolvenbach R, Schwierz E, Wassiljew S. Vascular. 2005 Mar-Apr;13(2):80-3.PMID: 15996361 [PubMed - indexed for MEDLINE]Related citations
Totally laparoscopic explantation of migrated stent graft after endovascular aneurysm repair: a report of two cases. Lin JC, Kolvenbach R, Wassiljew S, Pinter L, Schwierz E, Puerschel A. J Vasc Surg. 2005 May;41(5):885-8.PMID: 15886675 [PubMed - indexed for MEDLINE]Related citations
Combining open and endovascular surgery for the treatment of infrarenal abdominal aortic aneurysm: a case report using a hybrid vascular graft. Lin JC, Kolvenbach R, Pinter L. J Vasc Surg. 2005 May;41(5):881-4.PMID: 15886674 [PubMed - indexed for MEDLINE]Related citations
Total laparoscopically and robotically assisted aortic aneurysm surgery: a critical evaluation. Kolvenbach R, Schwierz E, Wasilljew S, Miloud A, Puerschel A, Pinter L. J Vasc Surg. 2004 Apr;39(4):771-6.PMID: 15071439 [PubMed - indexed for MEDLINE]Related citations
Regarding "salvage of a difficult situation: method for conversion of a failed endograft". Pinter L, Kolvenbach R. J Vasc Surg. 2004 Mar;39(3):696. No abstract available. PMID: 15005101 [PubMed - indexed for MEDLINE]Related citations
Hand-assisted advanced laparoscopic procedures--placement of the hand assist device is essential. Kolvenbach R, Ferrari M. Surg Endosc. 2003 Nov;17(11):1862-3. No abstract available. PMID: 14959745 [PubMed - indexed for MEDLINE]Related citations
Optimal therapy for advanced chronic venous insufficiency. Tawes RL, Barron ML, Coello AA, Joyce DH, Kolvenbach R. J Vasc Surg. 2003 Mar;37(3):545-51.PMID: 12618690 [PubMed - indexed for MEDLINE]Related citations
Laparoscopic remodeling of abdominal aortic aneurysms after endovascular exclusion: a technical description. Kolvenbach R, Pinter L, Raghunandan M, Cheshire N, Ramadan H, Dion YM. J Vasc Surg. 2002 Dec;36(6):1267-70.PMID: 12469062 [PubMed - indexed for MEDLINE]Related citations
Powered phlebectomy (TriVex) in treatment of varicose veins. Cheshire N, Elias SM, Keagy B, Kolvenbach R, Leahy AL, Marston W, Pannier-Fischer F, Rabe E, Spitz GA. Ann Vasc Surg. 2002 Jul;16(4):488-94. Epub 2002 Jun 27.PMID: 12085123 [PubMed - indexed for MEDLINE]Related citations
The feasibility of hand-assisted laparoscopic aortic bypass using a low transverse incision. Silva L, Kolvenbach R, Pinter L. Surg Endosc. 2002 Jan;16(1):173-6. Epub 2001 Oct 13.PMID: 11961633 [PubMed - indexed for MEDLINE]Related citations
Laparoscopy-assisted aneurysm resection as a minimal invasive alternative in patients unsuitable for endovascular surgery. Kolvenbach R, Ceshire N, Pinter L, Da Silva L, Deling O, Kasper AS. J Vasc Surg. 2001 Aug;34(2):216-21.PMID: 11496271 [PubMed - indexed for MEDLINE]Related citations
Hand-assisted laparoscopic abdominal aortic aneurysm repair. Kolvenbach R. Semin Laparosc Surg. 2001 Jun;8(2):168-77.PMID: 11441406 [PubMed - indexed for MEDLINE]Related citations
Hand-assisted laparoscopic aortoiliac surgery. Kolvenbach R. Arch Surg. 2000 Jul;135(7):875. No abstract available. PMID: 10896387 [PubMed - indexed for MEDLINE]Related citations
Descending aorta-to-femoral artery bypass: preliminary experience with a thoracoscopic technique. Kolvenbach R, Da Silva L, Schwierz E, Deling O. Surg Laparosc Endosc Percutan Tech. 2000 Apr;10(2):76-81.PMID: 10789577 [PubMed - indexed for MEDLINE]Related citations
Video-assisted aortic surgery. Kolvenbach R, Da Silva L, Deling O, Schwierz E. J Am Coll Surg. 2000 Apr;190(4):451-7.PMID: 10757383 [PubMed - indexed for MEDLINE]Related citations
Regarding "Descending thoracic aorta to iliofemoral artery bypass grafting: a role for primary revascularization for aortoiliac occlusive disease?". Kolvenbach R. J Vasc Surg. 2000 Feb;31(2):410. No abstract available. PMID: 10664510 [PubMed - indexed for MEDLINE]Related citations
Redone endoscopic perforator surgery: feasibility and failure analysis. Kolvenbach R, Ramadan H, Schwierz E. J Vasc Surg. 1999 Oct;30(4):720-6.PMID: 10514211 [PubMed - indexed for MEDLINE]Related citations
Reducing the operative trauma in aortoiliac reconstructions--a prospective study to evaluate the role of video-assisted vascular surgery. Kolvenbach R, Deling O, Schwierz E, Landers B. Eur J Vasc Endovasc Surg. 1998 Jun;15(6):483-8.PMID: 9659882 [PubMed - indexed for MEDLINE]Related citations
[Dependence of surgical trauma in aortic interventions on the approach chosen. A prospective study] Kolvenbach R, Wellmann K, Deling O, Schwierz E. Chirurg. 1998 May;69(5):558-62. German. PMID: 9653567 [PubMed - indexed for MEDLINE]Related citations
Combined endovascular/laparoscopic approach to aortic pseudoaneurysm repair. Kolvenbach R, Schwierz E. J Endovasc Surg. 1998 May;5(2):191-3. No abstract available. PMID: 9633962 [PubMed - indexed for MEDLINE]Related citations
The role of video-assisted vascular surgery. Kolvenbach R. Eur J Vasc Endovasc Surg. 1998 May;15(5):377-9. No abstract available. PMID: 9633490 [PubMed - indexed for MEDLINE]Related citations
Long term results after rotation angioplasty and catheter atherectomy. A retrospective analysis. Kolvenbach R, Strosche H. J Cardiovasc Surg (Torino). 1998 Feb;39(1):15-8.PMID: 9537529 [PubMed - indexed for MEDLINE]Related citations
[The rupture of an iliac aneurysm after its endovascular elimination. The problems of stent infection] Kolvenbach R, el Basha M, Schwierz E. Dtsch Med Wochenschr. 1997 Aug 22;122(34-35):1059-60. German. No abstract available. PMID: 9312465 [PubMed - indexed for MEDLINE]Related citations
Secondary rupture of a common iliac artery aneurysm after endovascular exclusion and stentgraft infection. Kolvenbach R, el Basha M. J Vasc Surg. 1997 Aug;26(2):351-3. No abstract available. PMID: 9279327 [PubMed - indexed for MEDLINE]Related citations
[Simultaneous retroperitoneal operation of juxtarenal abdominal aortic aneurysm and ischemic vertebral body necrosis] Kolvenbach R, Lohmann A, Siegling CW. Chirurg. 1997 Apr;68(4):429-32. German. PMID: 9206640 [PubMed - indexed for MEDLINE]Related citations
[Laparoscopy-assisted aortoiliac reconstructions] Kolvenbach R, Deling O, Wellmann K. Langenbecks Arch Chir. 1997;382(3):119-22. German. PMID: 9324608 [PubMed - indexedfor MEDLINE]Related citations
Regarding "laparoscopic vascular surgery: four case reports". Kolvenbach R, Lohmann A. J Vasc Surg. 1996 Aug;24(2):303-4. No abstract available. PMID: 8752052 [PubMed - indexed for MEDLINE]Related citations
[Surgical therapy of occlusions of the brachiocephalic trunk: long-term follow-up after transthoracic reconstruction]Kolvenbach R, Sandmann W, Kniemeyer HW, Torsello G, Freisenich J. Zentralbl Chir. 1995;120(3):205-9. German. PMID: 7754721 [PubMed - indexed for MEDLINE]Related citations
[Surgical therapy of occlusions of the brachiocephalic trunk: long-term follow-up after transthoracic reconstruction]Kolvenbach R, Sandmann W, Kniemeyer HW, Torsello G, Freisenich J. Zentralbl Chir. 1995;120(3):205-9. German. PMID: 7754721 [PubMed - indexed for MEDLINE]Related citations
Adenosine agonists and global cerebral ischaemia. Kolvenbach R, Figge C, Godehardt E, Sandmann W. Br J Clin Pharmacol. 1993 Aug;36(2):134-5. No abstract available. PMID: 8398583 [PubMed - indexed for MEDLINE]Free PMC ArticleFree textRelated citations
Risks and benefits of shunting in carotid endarterectomy. Sandmann W, Kolvenbach R, Willeke F. Stroke. 1993 Jul;24(7):1098-9. No abstract available. PMID: 8322390 [PubMed - indexed for MEDLINE]Free ArticleRelated citations
Doppler sonography and renal graft vessel thromboses after OKT3 treatment. Hollenbeck M, Westhoff A, Bach D, Grabensee B, Kolvenbach R, Kniemeyer HW. Lancet. 1992 Sep 5;340(8819):619-20. No abstract available. PMID: 1355203 [PubMed - indexed for MEDLINE]Related citations
Antioxidant depletion in aortic crossclamping ischemia: increase of the plasma alphatocopheryl quinone/alpha-tocopherol ratio. Murphy ME, Kolvenbach R, Aleksis M, Hansen R, Sies H. Free Radic Biol Med. 1992;13(2):95-100.PMID: 1516843 [PubMed - indexed for MEDLINE]Related citations
Disturbance of cerebral autoregulation after global ischemia and the stabilizing role of adenosine. Kolvenbach R, Nemat AT, Sandmann W. Intensive Care Med. 1992;18(4):252. No abstract available. PMID: 1430594 [PubMed - indexed for MEDLINE]Related citations
[Embolizing leg and pelvic vein thrombosis in late pregnancy: indication for simultaneous interdisciplinary procedures] Kolvenbach R, Grabitz K, Distler W, Eichwede F, Sandmann W. Gynakologe. 1991 Oct;24(5):305-6. German. No abstract available. PMID: 1743586 [PubMed - indexed for MEDLINE]Related citations
Postischemic cell membrane dysfunction. Kolvenbach R. J Vasc Surg. 1991 Feb;13(2):351-2. No abstract available. PMID: 1990177 [PubMed - indexed for MEDLINE]Related citations
The role of superoxide dismutase (SOD) in preventing postischemic spinal cord injury. Grabitz K, Freye E, Prior R, Kolvenbach R, Sandmann W. Adv Exp Med Biol. 1990;264:13-6. No abstract available. PMID: 2244484 [PubMed - indexed for MEDLINE]Related citations
["Inflammatory aneurysm" of the aorta. Diagnosis, therapy, results] Kniemeyer HW, Kolvenbach R, Rohde E, Godehardt E, Sandmann W. Chirurg. 1990 Jan;61(1):27-31. German. PMID: 2178892 [PubMed - indexed for MEDLINE]Related citations
Direct operations for the management of life-threatening ischemic ventricular tachycardia. Ostermeyer J, Borggrefe M, Breithardt G, Podczek A, Goldmann A, Schoenen JD, Kolvenbach R, Godehardt E, Kirklin JW, Blackstone EH, et al. J Thorac Cardiovasc Surg. 1987 Dec;94(6):848-65.PMID: 3682855 [PubMed - indexed for MEDLINE]Related citations
The surgical treatment of ventricular tachycardias. Simple aneurysmectomy versus electrophysiologically guided procedures. Ostermeyer J, Breithardt G, Kolvenbach R, Borggrefe M, Seipel L, Schulte HD, Bircks W. J Thorac Cardiovasc Surg. 1982 Nov;84(5):704-15.PMID: 7132410 [PubMed - ndexed for MEDLINE]Related citations
Intraoperative electrophysiologic mapping during cardiac surgery. Ostermeyer J, Breithardt G, Kolvenbach R, Körfer R, Seipel L, Schulte HD, Bircks W. Thorac Cardiovasc Surg. 1979 Aug;27(4):260-70.PMID: 494224 [PubMed - indexed for MEDLINE]Related citations
[Electrophysiological mapping during open-heart surgery (author's transl)] Ostermeyer J, Breithardt G, Kolvenbach R, Abendroth RR, Seipel L, Bircks W. Z Kardiol. 1979 May;68(5):320-5. German. PMID: 463189 [PubMed - indexed for MEDLINE]Related citations
[The clinical relevance of intraoperative electrophysiologic mapping (author's transl)] Ostermeyer J, Kolvenbach R, Seipel L, Bircks W. Langenbecks Arch Chir. 1979;350(2):113-20. German. PMID: 547134 [PubMed - indexed for MEDLINE]Related citations Free Full Text Adenosine agonists and global cerebral ischaemia. Kolvenbach R, Figge C, Godehardt E, Sandmann W. Br J Clin Pharmacol. 1993 Aug;36(2):134-5. No abstract available. PMID: 8398583 [PubMed - indexed for MEDLINE]Free PMC ArticleFree textRelated citations
Reviews
Stem cell use in critical limb ischemia. Kolvenbach R, Kreissig C, Ludwig E, Cagiannos C. J Cardiovasc Surg (Torino). 2007 Feb;48(1):39-44. Review.PMID: 17308520 [PubMed - indexed for MEDLINE]Related citations
Laparoscopic assisted aortic surgery. A review. Kolvenbach R, Ferrari M, Shifrin EG. J Cardiovasc Surg (Torino). 2006 Oct;47(5):547-56. Review.PMID: 17033602 [PubMed - indexed for MEDLINE]Related citations
Minilaparotomy for aortoiliac aneurysmal disease: experience and review of the literature. Fearn SJ, Thaveau F, Kolvenbach R, Dion YM. Surg Laparosc Endosc Percutan Tech. 2005 Aug;15(4):220-5. Review.PMID: 16082310 [PubMed - indexed for MEDLINE]Related citations